>> Wednesday, July 20, 2011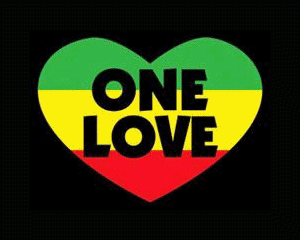 Writing a letter to a friend, I was briefly perplexed as to the proper salutation. On one hand, I wanted to close with "One," but her beautiful spirit made me want to sign the letter with "Love,". So, I decided to sign "One Love."

One Love is the name of a number of songs that have served as soundtracks to my life during different stages. I asked my Facebook friends, "What is your favorite version of "One Love"?

Here are my Top Five:

5. "One Love" by Trey Songs


On an album with songs like, "LOL :)" and "I Invented Sex," this song was overlooked. This was my favorite track off of Trey Songz Ready. It's one of the reasons "The Neighbors Know my Name."

The track has a thumping drum line, hot guitar licks and string/keys and a groovy bassline. The production is well put together. Whoever wrote this song was handling their biz. With lyrics like, "For the first time in my life, My pride is not a problem. I'm not afraid to tell you girl that I love you," this is one of the albums better songs.

4. "One Love" by Nas


Rooted in the New York State of Mind, Nas' "One Love" is off his debut album, "Illmatic." Produced by Q-Tip from Tribe, Nas' lyrics are conversations through letters to his incarcerated comrades.

This soulful track has a soft Kalimba melody throughout the song, with a soft piano and upright bass, giving the song a real jazzy feel. Nas' nasal flow rides the drum beat painting pictures of conversations of those locked up, and trying not to get caught in the trap. "Words of wisdom from Nas, try to rise above."

3. "1 Luv" by E-40


"1 Luv" is off E-40's album, In a Major Way. I got this tape from Record Gallery. E-40's version focuses on a conversations with those behind enemy lines. E-40 touches on unemployment due to deindustrialization, police brutality and three strikes, and hand-me downs in the first verse.

Riding on a funky bass track with some sprinkling of synths. Not to mention Leviti's crooning and another sista singing. The other two verses are written as conversation coming from his folks that's locked up, including one man who was going to get married until her got a Dear John letter from his lady. Still, 40 Water passes on a message from him. "My family thinks that I'm a thug, when you see my mama, give her a hug for me, and tell her: One Love."

2. "One Love" by Whodini


This classic is off Whodini's Back in Black album in 1986. Although I was four years old when this came out, I still fondly remember this track from my days at Woodstock Park with the Alameda Breaking Crew (ABC).

The synths and funky bassline combine with a pounding kick, and those reverbed snares. Not to mention that old school flow about love. "Better to have loved than to never loved at all." (Yeah, Whodini, paraphrasing Lord Tennyson.) This track is full of wisdom about relationships and lost (and found) love. "The L... the O ... the V... and the E."

1. "One Love" by Bob Marley


Bob Marley's "One Love" inspired most, if not all, of the previous tracks. Off of The Wailers' album, "Wailing Wailers," this track is true ska. Roots, rock and reggae. It has a real blues feel to it as well. "Is there a place for a hopeless sinner?" It's probably the only one of the above songs that you could play anywhere from a protest to a church.

The laid back groove features the Wailers handling their biz. A smooth bass groove rocks while the guitar guitar licks. The drums keep tempo, and include some nice breaks for transitions. "Let's get together and feel alright."


---

That's where I put them at. What's your favorite?
Share