>> Friday, April 1, 2011
LAS VEGAS.-Leggings have become a fashionable way for women to show off their curves. But the display of the feminine form is coming at the expense of womens reproductive health, experts say.

Leggings are a type of fitted clothing that covers the legs. Worn by both women and men, leggings range in fabric types from nylon, latex and spandex, to polyester, cotton and silk.

According to a recent report commissioned by the San Francisco, Calif. based Niagra Institute, leggings can cause a decrease in women's estrogen levels and reduce vaginal moistness. Both of which can lead to reproductive damage and other unintended health and hygiene consequences.

"Our research indicates that prolonged usage of leggings is detrimental to the reproductive capabilities of women," said Dr. Sandeep Vajayjay. "We are very concerned about the long-term affects this fashion trend will exact on teenagers."

In laboratory tests, two different groups with women of similar fitness levels engaged in physical fitness activities in different athletic apparel. A control group wearing shorts was three times more likely to maintain their estrogen levels compared to women of similar physical statures wearing leggings.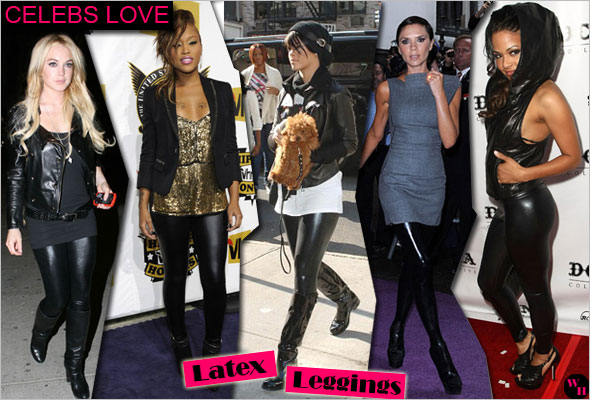 The study also founded that women's vaginal moisture was reduced by the popular pants. The tight pants apparently restrict the amount of air flow to the vagina, resulting in a sort of "Green House Gas" effect. That increased heat dries womens natural moisture.

Vaginal dryness is sometimes a result of deficiency estrogen, the female hormone, while other times it may be the result of skin conditions.

Tea Party backed freshman congressman Dan Benignsnatch of Michigan disagreed, calling the research "flawed." Adding, "In my experience, plenty of women in the Tea Party wear leggings and have not had those problems."


Activists with the one-year old Militant Obstetrics League for Lovely Youth (MOLLY) support the study's findings and have called for Congressional action, and more.

"It is past time that women end this trend of trading our health for the aesthetic tastes of others," said Alison Walker. "We urge everyone disgusted with this dysfunctional and patriarchal clothing style to fight against those who wish to imprison us in plastic pants."

Walker accused Benighsnatch of profiting from leggings. Campaign finance reports reveal that the congressman received major funding from nylon and polyester manufacturers last fall in his electoral insurgency. Wisconsin's Governor is also linked to the leggings manufacturing syndicate as a quarter shareholder.

A previous study, coinciding with another initiative investigating leggings potential to reduce cellulite, found that wearing leggings daily for eight weeks is likely to cause yeast infections.

"If you wear them once in a while and the genital area has time to dry, then I think you might be okay," said OG-GYN Dr. Betsy Evans. She added that these fungal infections ofter lead to itching and vaginal pain. "Who would wear those every day, anyway?"

Writer Lucinda Gunnin advises women who want to where the pants but avoid yeast infections to
"look for a cotton crotch to help prevent excess moisture buildup." She was concerned that too much emphasis is being placed on having overly moist vaginas. "Sure, we expect to be warm and moist at the right times but all day, every day is a recipe for discomfort and itch."

The revelation comes just days before an explosive study linking sagging pants to erectile dysfunction is to be released. Urban magazines that receive major advertising funding from legging retailers and Hip Hop inspired fashion lines are very concerned.

"If our clothes making pussies dry and dick malfunctions, it's gone be detrimental to our bottom line [sic]" according to Jimmy Johnson, founder of Dookie Bottoms clothing line principal and Publisher of Black Back magazine.
Share